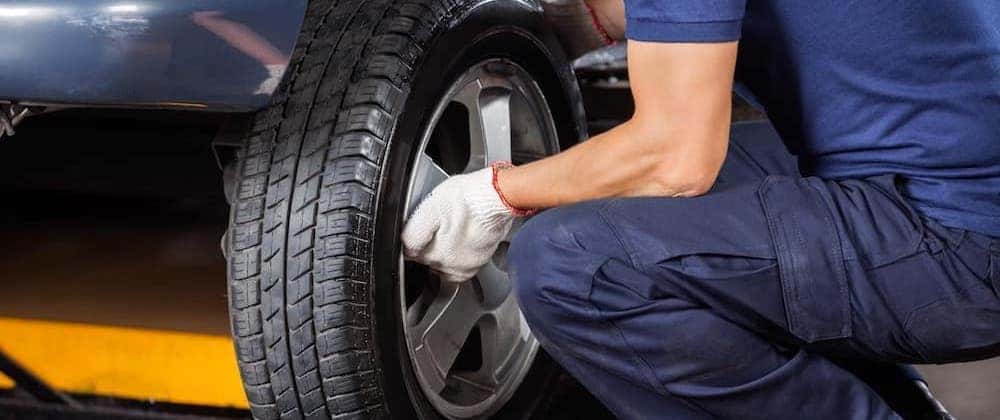 ---
When you want to keep your tires best possible condition, you'll want to ensure that you should get regular tire rotations. After all, this will help you stay safe as you drive on Carrollton roads. How often should you rotate your tires? Automotive experts recommend you rotate your tires every 5,000 to 7,500 miles. And while this is a great rule of thumb to follow, your vehicle's exact interval will depend on its drivetrain and your driving habits.
Take some time to learn more about when to rotate your tires and other tire rotation tips with the service team at Scott Evans Nissan.
Tips For Rotating FWD & RWD Tires
Newnan city drivers typically drive either a front-wheel drive (FWD) or rear-wheel drive (RWD) vehicle to and from work. The FWD and RWD designations indicate where the power from the engine is sent to accelerate the vehicle. This means that the set of tires that are getting the bulk of the power from the engine will wear faster than the others. If you own a FWD or RWD vehicle, keep these tire rotation tips in mind:
FWD and RWD vehicles will need a tire rotation every 5,000 to 7,500 miles.
However, you should consult your owner's manual for the exact mileage.
If you're rotating the tires on a FWD vehicle, make sure to switch sides when moving the rear tires. For example – the rear left tire will go on the front right wheel. When you move the front tires to the back, however, keep them on the same side.
If you're rotating tires on a RWD vehicle, flip sides when moving the front tires to the back: For example – the front left tire will go on the back right wheel. Keep the rear tires on the same side when moving them forward, however.
AWD Tire Rotation Tips
When do you rotate tires on all-wheel drive (AWD) cars, trucks, and SUVs? Because AWD models direct power to each tire to accelerate causing the tires to wear differently. It's recommended that you rotate the tires on an AWD vehicle every 3,000 to 5,000 miles. However, drivers that work on construction sites, go off-roading, or drive their vehicle particularly hard, then you may need to rotate them sooner. Be sure to consult with your owners manual and your local Douglasville Nissan dealer.
Reasons To Rotate Your Tires
So why should you get regular tire rotations? Your tires are your ONLY connection to Villa Rica streets, and are the primary safety feature on your daily drives. Rotating your tires will not only help you save money by extending their lifetime, but you'll also have improved traction on slippery roads, experience less road noise, and relieve any unnecessary stress on your drivetrain.
By staying up to date with your vehicle maintenance and tire rotation schedule, you'll be better prepared in the event of inclement weather or a sudden road hazard. Schedule an appointment with your local Carrollton Nissan service center to see how often you need to rotate your tires.
Get Tire Service At Scott Evans Nissan
Whether you need a new set of tires or a tire rotation, the team at Scott Evans Nissan will help you keep your Nissan in its best condition. Browse our service specials for savings on tire rotations, balancing, and alignment. You can also read our other DIY service tips for guides on home Nissan maintenance. We're always ready to help you keep your Nissan running smoothly for mile after mile in Carrollton! Contact us with any questions today like questions about care tire longevity. You'll often get a tire rotation with your oil change. And thankfully, you can get your oil changed in under an hour at Scott Evans Nissan. Looking for more info? Check out our guide on how to rotate tires!
Service Specials From Scott Evans Nissan
More Auto Service Tips From Scott Evans Nissan