2020 Nissan Rogue MPG By The Numbers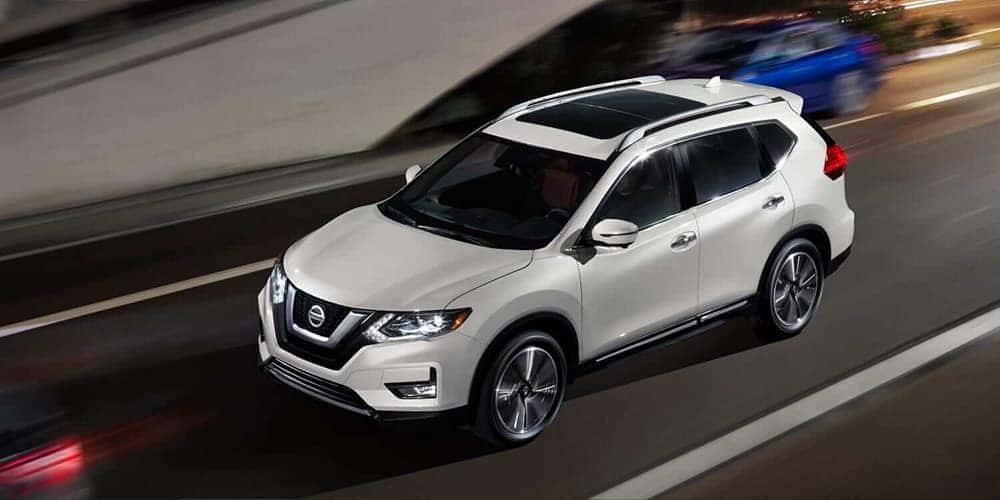 If you want to make the most out of every drive through Villa Rica and Newnan,  you need an SUV that delivers solid fuel efficiency. Lucky for drivers in the Douglasville-area, the 2020 Nissan Rogue offers all the features you expect from a flexible SUV, without sacrificing strong fuel efficiency numbers. Learn more about Nissan Rogue gas mileage with the team at Scott Evans Nissan, and contact us today if you have any questions!
Nissan Rogue MPG Specs
No matter which model you choose, every 2020 Nissan Rogue comes equipped with a 2.5L DOHC 16-valve 4-cylinder engine paired with the XTRONIC CVT® transmission. Both work together to deliver the dynamic performance you need to get around Douglasville effectively. While we're sometimes asked about Nissan Rogue Hybrid MPG, that model is no longer offered for the 2020 model year. That being said, Scott Evans Nissan knows that the 2020 Rogue offers the strong fuel economy you're looking for!
You'll notice slight differences in Nissan Rogue MPG between front-wheel drive and Intelligent AWD models. Compare Nissan Rogue gas mileage below:
26 mpg city/33 mpg highway with FWD
25 mpg city/32 mpg highway with Intelligent AWD
2.5L DOHC 16-valve 4-cylinder base engine
170 hp
175 lb-ft of torque
Eco/Sport Mode
XTRONIC CVT® with Sport Mode shifter
Features That Improve Nissan Rogue Gas Mileage
While its engine certainly offers dynamic performance, it uses many features to achieve impressive MPG figures. As previously noted, Nissan Rogue models come equipped with the XTRONIC CVT® transmission. This clever transmission optimizes fuel efficiency and allows for smoother power delivery. This can help you reinforce fuel-efficient driving techniques on the streets of Lithia Springs.
Find Your Fuel-Efficient Rogue at Scott Evans Nissan
To truly understand how Nissan Rogue MPG ratings can impact your Oxford, AL commutes, we urge you to get behind the wheel for yourself! Contact Scott Evans Nissan, and we'll help you find the 2020 Nissan Rogue in our online inventory that can transform your Newnan drives into an event to look forward to. We're ready to work with you to find the fuel-efficient SUV you need to take on your everyday to-dos.
Want to take your search in another direction? Be sure to read up on Altima MPGs, Nissan Pathfinder towing, and Nissan Intelligent Key programming today. We can also help you compare the Nissan Rogue vs. Toyota RAV4 or Nissan Rogue vs. Nissan Murano.
Learn More With Scott Evans Nissan
Are you looking for more space in your vehicle? When you upgrade to an SUV, you shouldn't have to sacrifice fuel economy, especially when the additional space makes your Newnan life easier. Many of our customers ask, "Is the 2023 Nissan Rogue fuel-efficient?" and our answer is always the same: yes! For more information…

If you live in Newnan, are you ready for a compact SUV that delivers in the excitement category? The 2023 Nissan Kicks is calling your name. With this Nissan model, you and your family can relax before setting off to explore Douglasville and beyond. The 2023 Nissan Kicks interior is built with adventure in…

Nissan features plenty of family-friendly SUVs that help you take kids to sports practices and recitals, get your weekly shopping done, and make family vacations a breeze. One such model is the 2023 Nissan Kicks, an SUV with very good gas mileage for everyday driving and long hauls. Find out more about the 2023…