Which Nissan Models Seat 7?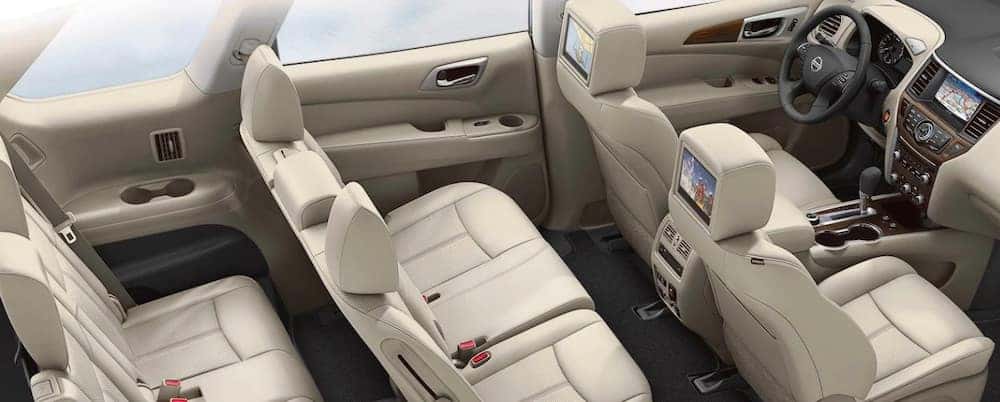 If you're a Nissan shopper looking for an SUV, you might be asking about a Nissan 7-seater. There are two Nissan 7-seat SUVs, the Pathfinder and the Armada, while other vehicles in the Nissan lineup have spacious seating for five. Nissan SUVs with third row seating are just the start of our Nissan knowledge for Newnan drivers. Keep on reading and learn more about what a new Nissan could do for you!
The Nissan Pathfinder at a Glance
If you're looking for a reliable midsize SUV that's also a Nissan 7-seater, we have to recommend the Nissan Pathfinder. You can take advantage of a 3.5L V6 engine to take you where you need to be in Douglasville or wherever you're headed. And you also have the option of picking between five and seven seats to make for a perfectly flexible vehicle. And with the numerous Nissan Pathfinder trims, you can customize your vehicle just as you see fit.
The Nissan Armada at a Glance
However, if you're looking for maximum room for your Villa Rica drives, you'll have to pick the Nissan Armada. It's got a 5.6L V8 engine to back you up when you're getting through traffic. This SUV has three rows standard, meaning you can fit everyone and everything inside without having to sacrifice a thing. We would love to help you take a test drive of this vehicle!
Other Nissan SUVs
If you're asking whether the Nissan Rogue or Nissan Murano are a 7-passenger Nissan, unfortunately, these Nissan models only offer seating for five. However, if you're looking for a Nissan with seven seats or just one with five, the team at Scott Evans Nissan has you covered no matter your driving needs.
We're Ready to Help in Carrollton
If you're a Villa Rica driver looking to upgrade with a Nissan, we can help find you your perfect 7-passenger Nissan or whatever kind of Nissan suits you. We've got a knowledgeable sales team that will help you make the right choice when it comes to Nissan. Contact us today to get started. We can't wait to hear from you!
New Nissan Armada Inventory
New Nissan Pathfinder Inventory
More From Scott Evans Nissan
Before finalizing your decision on your upcoming Nissan SUV, the most exciting part is discovering it in a style that truly resonates with you. This anticipation is fulfilled with the fresh array of 2023 Nissan Rogue colors. From a selection of solid exterior shades to distinctive interior options, you have countless ways to make…

Elevate your everyday drives through Newnan with the 2023 Nissan Altima's impressive array of performance, technology, and comfort features. However, with several Nissan Altima models to choose from, it's essential to find the perfect fit for your lifestyle, budget, and needs. How much does the 2023 Nissan Altima cost? At Scott Evans Nissan, our dedicated team…

Are you looking for a new vehicle that can be everything you need for all of those Douglasville and Newnan adventures? Then take a look at the 2023 Nissan Pathfinder and see all that it can offer you and your passengers throughout your travels. Not only does it have a suite of remarkable features…