Recommended Nissan Maintenance Schedule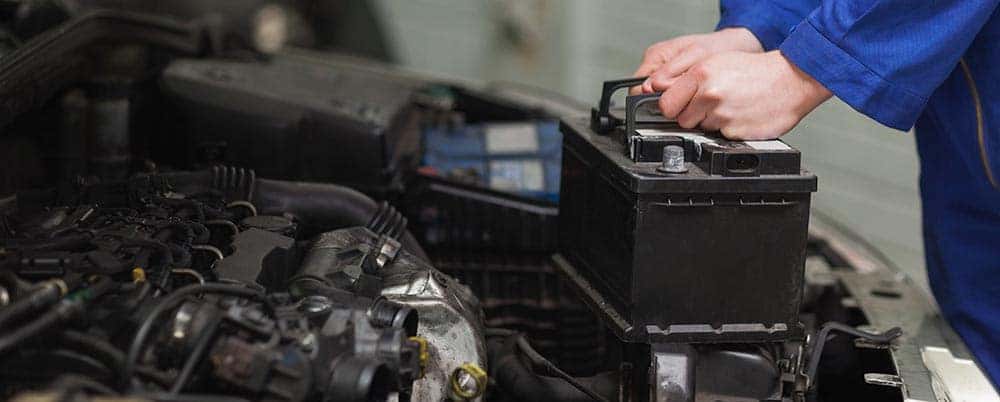 Do you know your car maintenance schedule? Whether you just drive your car to work and back or regularly road trip out of the Carrollton area, the best way to ensure a safe and uneventful drive is to keep up with your auto service. Rely on Scott Evans Nissan to keep your Nissan Rogue or Nissan Altima running healthy throughout the Douglasville roads!
How Long Does a Car Battery Last?
Modern car batteries don't require any regular maintenance, but they will eventually die. If you're lucky enough to not worry about any cold snaps, a car battery can last as long as 5 years. Once you hit that mark, we often recommend a new battery just so you're not caught with a dead one unexpectedly. It's also good to check for damage or signs of wear (like leaking or corrosion around the poles).
How Often to Change Oil
Oil helps keep your engine running all over Villa Rica, ensuring metal glides smoothly instead of grinding and causing damage. Running out of oil or running on bad oil can cause severe engine damage, and you should have your oil changed as often as your manual recommends — usually between 4,000 and 6,000 miles.
How Long Do Windshield Wipers Last?
There is no set mileage for most windshield wipers, but you should replace them as soon as you notice them failing. Once you turn those wipers to "on" and see that you're only clearing some of the water off of your windshield, it's time for some new ones. If your vehicle has spent the winter months in a particularly cold climate, the damage to the rubber could be significant, and we recommend inspecting windshield wipers as part of spring auto maintenance.
How Often to Rotate Tires
When you buy new tires, they have a mileage limit on them, and it can range from 40,000 miles all the way up to 80,000 miles or more. You'll only reach that mileage if you regularly rotate your tires for even wear, every 5,000 miles or so. It's wise to regularly inspect your tires for signs of wear and tear as well as uneven wear, as those can be indicators of bigger problems. Luckily, Villa Rica drivers can take advantage of our service and parts specials to keep up with maintenance at an affordable price!
Let Scott Evans Nissan Help You Keep Up
Rely on Scott Evans Nissan to keep your Nissan vehicle running smoothly for years to come. If you have any questions, be sure to contact us so we can help!
Latest News from Scott Evans Nissan
If you're searching Carrollton for a new midsize truck to handle your adventures around Newnan, check out the 2023 Nissan Frontier towing capacity. How much can the 2023 Nissan Frontier tow? When properly equipped, the 2023 Nissan Frontier can towup to 6,720 pounds! Although the 2023 model year is the last one for the…

Are you looking for more space in your vehicle? When you upgrade to an SUV, you shouldn't have to sacrifice fuel economy, especially when the additional space makes your Newnan life easier. Many of our customers ask, "Is the 2023 Nissan Rogue fuel-efficient?" and our answer is always the same: yes! For more information…

If you live in Newnan, are you ready for a compact SUV that delivers in the excitement category? The 2023 Nissan Kicks is calling your name. With this Nissan model, you and your family can relax before setting off to explore Douglasville and beyond. The 2023 Nissan Kicks interior is built with adventure in…