Recommended Nissan Maintenance Schedule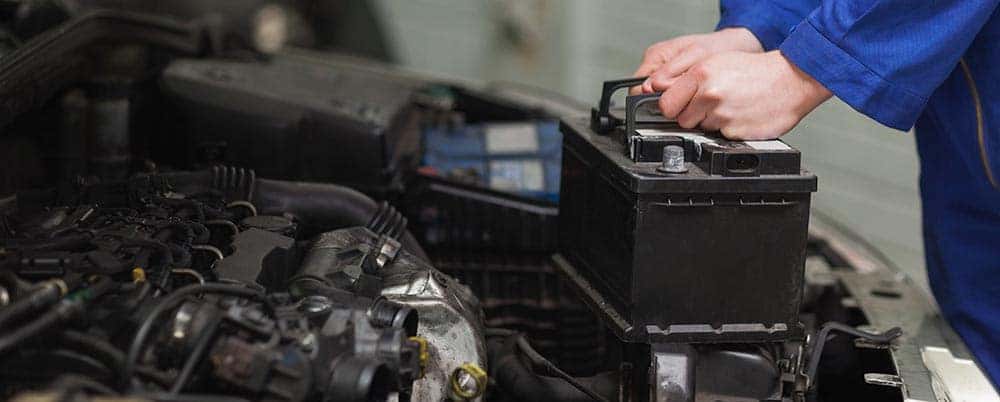 Do you know your car maintenance schedule? Whether you just drive your car to work and back or regularly road trip out of the Carrollton area, the best way to ensure a safe and uneventful drive is to keep up with your auto service. Rely on Scott Evans Nissan to keep your Nissan Rogue or Nissan Altima running healthy throughout the Douglasville roads!
How Long Does a Car Battery Last?
Modern car batteries don't require any regular maintenance, but they will eventually die. If you're lucky enough to not worry about any cold snaps, a car battery can last as long as 5 years. Once you hit that mark, we often recommend a new battery just so you're not caught with a dead one unexpectedly. It's also good to check for damage or signs of wear (like leaking or corrosion around the poles).
How Often to Change Oil
Oil helps keep your engine running all over Villa Rica, ensuring metal glides smoothly instead of grinding and causing damage. Running out of oil or running on bad oil can cause severe engine damage, and you should have your oil changed as often as your manual recommends — usually between 4,000 and 6,000 miles.
How Long Do Windshield Wipers Last?
There is no set mileage for most windshield wipers, but you should replace them as soon as you notice them failing. Once you turn those wipers to "on" and see that you're only clearing some of the water off of your windshield, it's time for some new ones. If your vehicle has spent the winter months in a particularly cold climate, the damage to the rubber could be significant, and we recommend inspecting windshield wipers as part of spring auto maintenance.
How Often to Rotate Tires
When you buy new tires, they have a mileage limit on them, and it can range from 40,000 miles all the way up to 80,000 miles or more. You'll only reach that mileage if you regularly rotate your tires for even wear, every 5,000 miles or so. It's wise to regularly inspect your tires for signs of wear and tear as well as uneven wear, as those can be indicators of bigger problems. Luckily, Villa Rica drivers can take advantage of our service and parts specials to keep up with maintenance at an affordable price!
Let Scott Evans Nissan Help You Keep Up
Rely on Scott Evans Nissan to keep your Nissan vehicle running smoothly for years to come. If you have any questions, be sure to contact us so we can help!
Latest News from Scott Evans Nissan
If you're looking for a new 2020 Nissan Titan or 2020 Nissan Titan XD to take on your everyday to-do's, then you're surely curious about its towing capacity. Our team is ready to help you see how a new Nissan pickup truck like the Titan or Titan XD could help handle DIY projects and jobsite…

Congratulations to Rodney Freeland and Rudy Knox. In recognition of being in the TOP 1% of 2019 Truck Sales Professionals in the nation. Well done guys!

The Nissan Altima isn't just a smooth and stylish ride, it's also remarkably fuel-efficient – which is a huge asset for your Newnan and Villa Rica commutes! While the precise Nissan Altima MPG can vary depending on your trim and options, you can expect up to 28 city mpg and 39 highway mpg when properly equipped….