How to Change a Flat Tire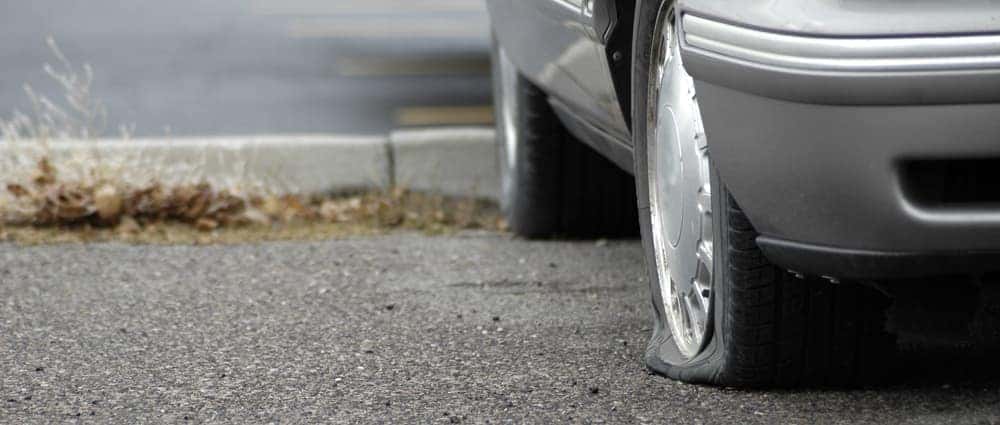 No one wants to end up stranded on the side of the road, which is why knowing how to change a flat tire is a skill all drivers should learn. While it may seem daunting in the moment, fixing a tire is not as hard as you imagine. Follow these steps to get the job done right.
Tools
You will need several tools to make sure you can effectively change your tire:
Lug Wrench
Jack
Owner's Manual
Fully Inflated Spare Tire
Making sure that your spare tire is properly inflated to your manufacturer's recommended PSI is important to ensuring you have a safe ride. In order to make the job even easier, these additional items can offer great assistance at night or in inclement weather:
Flashlight
Rain Poncho
2″x6″ Wood to Secure the Jack
Gloves
Wheel Wedges
Steps for Changing a Flat Tire
Once you have the tools you need, you should follow these steps:
Once you've realized you're flat, slow down and find a safe location to park. A level, straight stretch of road with a wide shoulder is ideal.
Turn on your hazard lights before stepping out of the vehicle.
Apply the parking brake to prevent rolling, even on level ground.
Set the wheel wedges in front of the front tires if you're changing a rear tire, or behind the rear tires if you're changing at the front.
Place the jack beneath the frame. and follow the instructions in your owner's manual.
Look for a section of exposed metal and place a small cut of 2×6" wood beneath the jack to prevent it from settling, then start to lift. Remember never to place any part of your body under the vehicle.
Unscrew the lug nuts. Once loose, it's easy to unscrew them by hand.
Remove the flat fire. Grip the treads and pull gently towards you. Set it on its side to prevent rolling.
Mount the spare on the lug nuts, then tighten them by hand.
Lower the vehicle slightly and tighten the lug nuts with a wrench.
Bring the vehicle to the ground.
Replace the hubcap. If it no longer fits, stow it with your flat.
Check the pressure of the spare to ensure it is safe to drive on.
Drive to a service center. Spares are intended for temporary use and shouldn't be used for high-speed driving.
Need More Help? Contact Scott Evans Nissan
Our highly trained service department is always here to answer your questions. Don't hesitate to contact us today if you'd like to find out more, or come into our dealership in Carrollton today. Take advantage of our service specials to save you money in the long term, and explore our guide to identifying strange car noises. Be sure to look out for seasonal road hazards!