Seasonal Auto Service: What to Check When the Weather Changes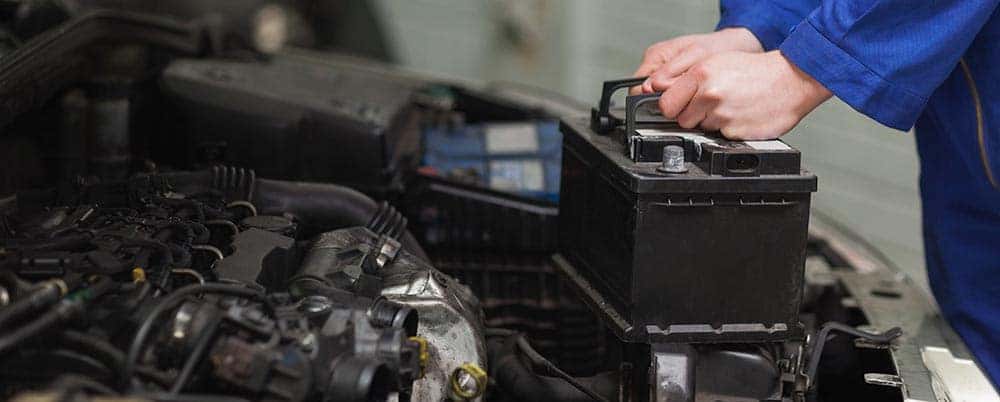 We may not get much of a winter in Georgia, but a change in seasons is still a good time to visit the Scott Evans Nissan service center. A sudden overnight drop in temperature could have an effect on your battery, and it's always a good idea to have your AC inspected as summer nears. Even modern cars with advanced safety features need maintenance, so checking your battery, replacing your tires, and flushing the cooling system are all extremely important to do for incredible peace of mind.
Check Battery
The battery on your vehicle plays an important role, and knowing it's working properly will allow you to have a vehicle that doesn't die on you unexpectedly. Having a professional at our local service center check your battery is a good idea, as trying to tackle this on your own can be dangerous. Your service center has the right equipment needed to test the levels on your battery and see if it needs to be replaced. Plus, if we notice signs of damage or weakness, we can replace the battery on site so you can drive away knowing your vehicle is functioning properly.
Replace Tires
There are different tires for different applications, and that includes changes in the season. You won't likely need winter tires for snow, but the extra traction can help immensely in your next Douglas County rainstorm. Winter tires have more grip on them and are more durable, too. Have your current tires inspected by a professional and see if they need repair or replacement. You can check for yourself with just a penny, but we always recommend letting a pro look for any other wear and tear on your tires.
Check Cooling System
The cooling system on your car keeps it from overheating and it's necessary this area of your vehicle is inspected regularly – the engine can run hot and overheat any month of the year, not just during the summer. Doing this on your own is extremely dangerous, especially if you don't know what you're doing. Instead of running that risk, bring your vehicle to a trusted service center and let them check and flush your cooling system for you so you can enjoy your Coweta County drive.
Let Scott Evans Nissan Help
When you're vehicle is in need of auto service, trust the professionals at Scott Evans Nissan. We are located at 725 Bankhead Hwy in Carrollton, GA, so stop in for a quick check of your vehicle by our trusted team or contact us at 470-458-4036 to schedule your service appointment. Be sure to check out our guide to changing your tires so you can drive with confidence, and consult our professionals so you know when your Nissan model needs maintenance!